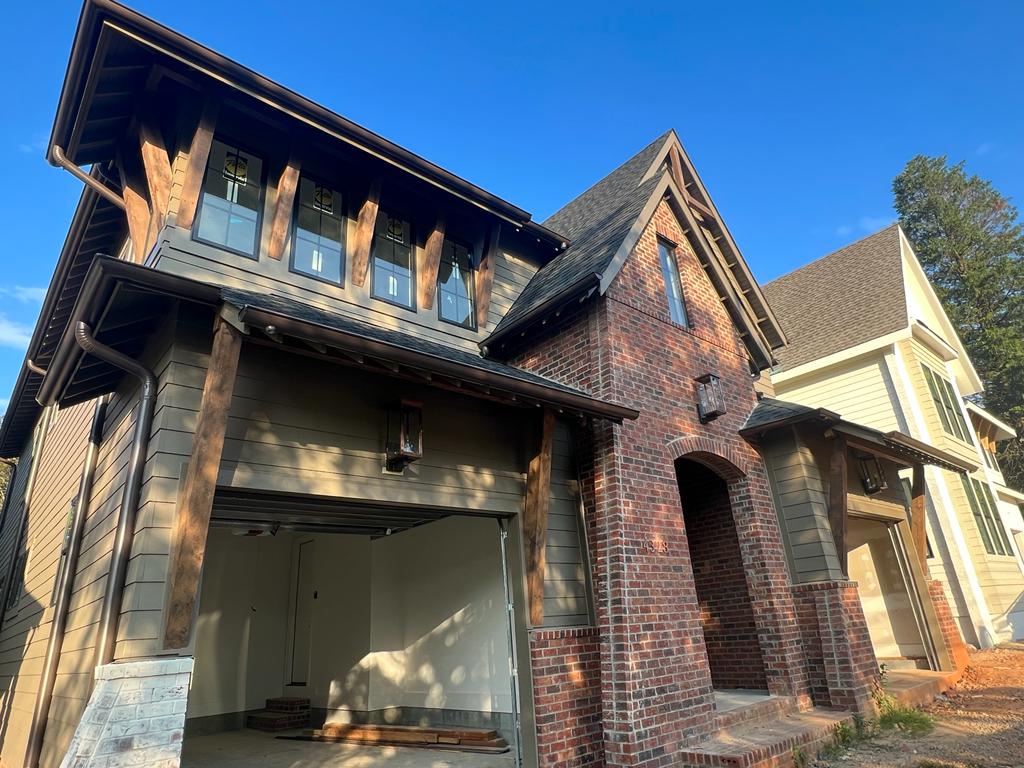 Don't Wait to Replace Your Gutters
Most houses have gutters and downspouts, but they nevertheless experience damage due to a variety of issues. Gutters that are constantly clogged with leaves, twigs, and other garbage, for example, can overflow, pouring water everywhere. Gutters might be poorly sloped or inadequate for the roof surfaces they drain. Downspout extensions may be required in some cases to steer runoff away from the home.
Our consumers know that we are consistently acknowledged as the most dependable gutter contractors in Charlotte. Our well-trained staff of local roofing services specialists can handle all of your gutter needs, ensuring that your freshly built or repaired gutters will safeguard your property for a long time. We provide dependable, competent service at a reasonable cost.
Please contact us for an estimate on gutter cleaning or new gutters for your house or business. We'll put you in contact with someone who can provide you with rapid, professional assistance.
Save money on gutter cleaners and avoid the risk of cleaning it yourself by letting us show you how effective and simple gutter protection can be!
Because there are no seams, there is less collection of leaves and debris, so you don't have to clean them as frequently.
Seamless gutters use fewer fasteners and are less prone to tearing away from your structure.
Your gutters will not leak if there are no seams.
This process will keep all water velocities fully drained and your property safe.
The Difference Well-Maintained, Professionally Installed Gutters Can Make
Your gutters are one of the least-appreciated forms of protection for your home. However, a quality gutter system protects several aspects of your property. When you have a well-maintained, professionally installed gutter system, your home has protection for its roof and foundation.
Gutters channel water quickly off the roof. If you don't have blocked gutters or those that need repairs, water can stagnate on your roof and cause water damage. On the other hand, clogged gutters can also be a sign of roof damage if the clogs happen from the grit on the shingles washing off.
Gutter systems also prevent excessive water from flowing directly off your roof and causing water erosion in the ground near your home. You'll avoid water damage to the foundation by channeling water away from your home.
If you have damaged or inefficient gutters, you could have problems on your roof or foundation. Therefore, don't delay if you suspect you need gutter repair in Charlotte. Call us at Macaw Construction.
Signs to Call Us at Macaw Construction for Gutter Repair or Replacement
Typically home gutters need cleaning at least once or twice a year. After having your gutters cleaned, if they still show problems, you may need repairs. Check your gutters for the following signs of damage that indicate you may need gutter repair or replacement:
Sometimes gutters or the downspout may come loose from your home. These components may only need reattachment unless they've suffered from rust, bends, or other damage. An expert will determine if gutter repair or replacement is the best option for the affected area.
Clogged or Overflowing Gutters
Waterfalls are beautiful and an annoyance when they originate from your gutters. Clogged gutters may cause water to cascade over the side of a waterfall, eroding the soil beneath. Cleaning out the gutters may solve this problem.
Additionally, if the original installer did not properly pitch the gutters, they may also have this problem or water flowing backward in the gutter. A gutter professional will be able to determine if they can repair or need to replace your gutters.
Rust happens when iron comes in contact with water and oxygen. Over time, rust eats through sections of your gutter to create holes that can reduce the efficiency of your entire gutter system. Rusty gutter sections need replacement because this type of damage is permanent. If you see rust, contact us at Macaw for an assessment of your gutter system.
How Macaw Construction Services Became a Provider of Top Gutter Repair Charlotte Homeowners Trust
When you want a top gutter repair service in Charlotte, trust us at Macaw Construction. We offer quality work that ensures coverage of your home's gutter repairs by industry warranties. Whether you need gutter cleaning, repairs, or replacement, let us know at Macaw Construction Services. Your home deserves a quality, efficient gutter system to protect your roof and foundation from damage.
Make the call to Macaw Construction today
for
gutter repair Charlotte
homeowners have trusted for years.
Protect Your Home From Water Damage
Our expert team will collaborate with you to deliver the finest solutions that are custom tailored for your house and installed with the attention and craftsmanship that only we can provide. Our skilled installers use the best and most dependable procedures to provide you with a gutter that will safeguard your house for many years.
Macaw Construction Services LLC provides gutter replacement and gutter repair services throughout North Carolina. Including, Gastonia, NC, Huntersville, NC, Davidson, NC, Concord, NC, Mooresville, NC and Cornelius, NC.