Professional siding Repair
in Charlotte, NC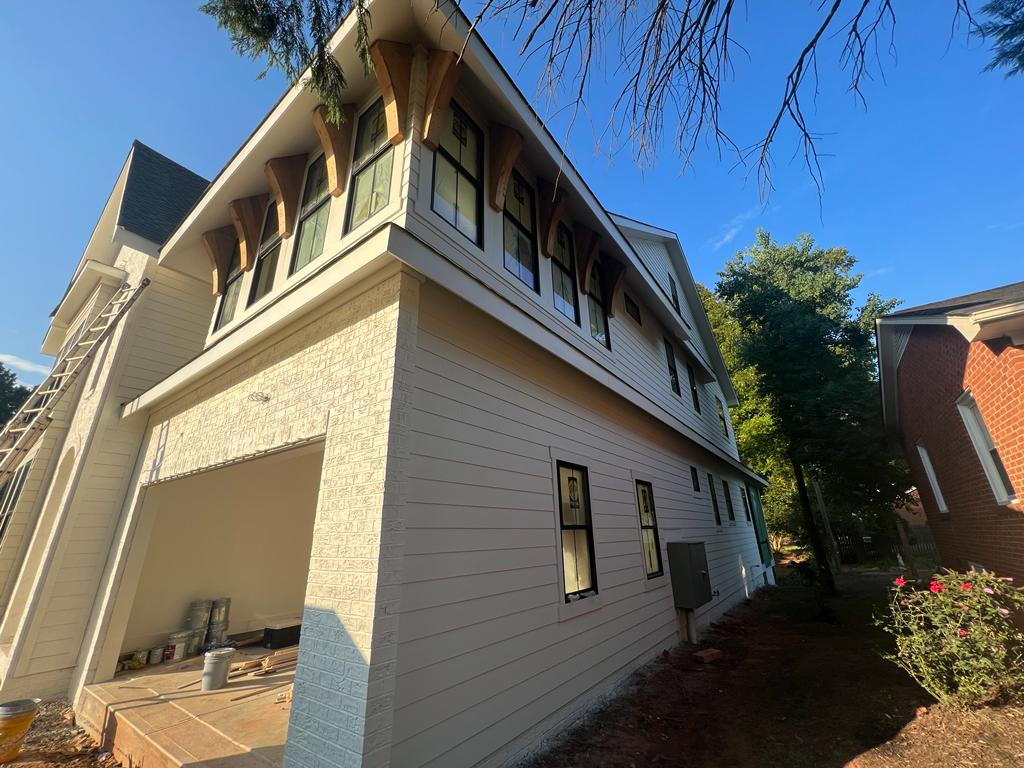 Siding repairs & Siding Replacement. Done Right
Transform Your Home With New Siding
Macaw offers a diverse selection of designs from reputable suppliers. Siding can be used to create or improve the appearance and feel of any structure. Siding is also one of the few investments that can immediately raise the value of a home, and in many circumstances, the expense of replacing Siding can be fully repaid when the property is sold.
Whether you're building a new house, upgrading an existing one, or requiring Siding repairs or an inspection after a recent weather event, Macaw has you covered with all of your Siding repair needs. With some of the industry's most experienced and skilled people, you can trust that your project will be handled with the utmost care and attention, utilizing the best materials and installation procedures.
Call Macaw today, and one of our siding repair Project Consultants to evaluate your present Siding repair needs and, if necessary, give you an exact price for Siding replacement. If your looking for siding repair in Charlotte, NC, then look no further. We offer the best prices and service level with no high-pressure sales methods or gimmicks here; just quality and service you can rely on.  
Call Today: 704-960-9041
Benefits Of Siding Repairs:
The following are some of the benefits of Siding Repairs in Charlotte, NC.
Various styles and color schemes can assist in improving the appearance of your property and making it stand out.
Siding with a lifestyle effect is long-lasting and resistant to wind, rain, and impact damage.
With energy-efficient Siding , you can save money on your monthly expenses on utility.
Siding adds savings but also adds to the overall value of your home.
Why You Might Need Siding Repair or Replacement
Siding on your home should last for years but will not last forever. Over time, aging or damaged siding will detract from the value of your home. Don't let your curb appeal and home value decrease due to keeping damaged siding in place. Contact us at Macaw Construction if your home's siding has damage from any of the following causes:
Wind-driven debris, hail, or rocks kicked up by lawn care equipment can cause physical damage to the siding of your home. You may notice scratches, gouges, or other signs of direct impacts from physical objects on the siding. Schedule siding repairs for your home if you notice any of these.
Storms can bring high winds that can strip siding panels from your home. Contact us at Macaw Construction Services for siding repairs if you see missing or lifted siding on your home after a wind storm.
Excessive Heat or Sunlight
While siding should withstand the heat of even the warmest summer weather, it can sustain damage from too much heat. If you have a grill near your home, the heat from the grill can damage the siding. Vinyl siding may experience UV damage over time from direct exposure to sunlight. You may need siding replacement if most of your home's siding has damage from sunlight or heat.
Several types of pests can contribute to siding damage. Termites eat through wood siding, requiring repairs of the affected areas and termite prevention treatment. Rats or mice may find the protected space under your siding a good location for building their nests. However, their homes damage the siding and can cause problems for your interior walls, too. After having our team with Macaw Construction repair your siding, keep the problem from reoccurring with pest control.
Types of Siding We Install
When you need siding repair in Charlotte, your best choice is our experts at Macaw Construction. We offer a large selection of various siding types for your home. Our range of options can match the existing siding you have when we do repairs. Or, we can upgrade the look of your home with siding replacement. Types of siding we proudly install include:
Natural cedar siding: A natural wooden siding option that offers unparalleled beauty to your home.
Wood shakes siding: Wood shakes give your home a classic look and a green siding option.
Cement board siding: A long-lasting, durable siding option.
Vinyl composite siding: When you want a large selection of styles, choose vinyl for your siding replacement.
Aluminum siding: Thwart pests with aluminum siding on your home.
Whether you need siding replacement or repairs in Charlotte, our range of options will ensure that we can install the perfect siding for your home.
What Makes Macaw Construction Services a Company for Siding Repair Charlotte Residents Depend on
As a provider of
siding repair Charlotte
locals have come to rely on, our team members at Macaw Construction Services take our job seriously. We work hard to exceed your expectations and back our work with a craftsmanship guarantee. When you need siding repair in Charlotte or want to improve your home's value with siding replacement,
contact us at Macaw Construction Services
.
Time To Upgrade Your Siding!
The time to act is now, whether you need Siding repairs in Charlotte, NC or a full Siding replacement in Charlotte, NC. Macaw is here to assist if your life feels more like a nightmare than a dream.
Macaw Construction Services LLC provides siding replacement and siding repair services throughout North Carolina. Including, Gastonia, NC, Huntersville, NC, Davidson, NC, Concord, NC, Mooresville, NC and Cornelius, NC.